Discover more from Witness
Pro-Black, Pro-LGBTQIA2S+, sometimes polemical political and pop culture testimony from author Robert Jones, Jr., formerly known as "Son of Baldwin."
Over 13,000 subscribers
The Politics of Wondering: Gender, Nationality, Race, Sexuality, and War Vis-à-Vis Tom King's WONDER WOMAN #1
"America versus Wonder Woman."
Please note: This review will contain spoilers. Thank you.
Wonder Woman #1
"Wonder Woman: Outlaw, Part 1"
Writer: Tom King
Artist: Daniel Sampere
Colorist: Tomeu Morey
Letterer: Clayton Cowles
Editor: Brittany Holzherr
Associate Editor: Chris Rosa
Group Editor: Paul Kiminski
Publisher: DC
"You call me girl because you think I am a fool. But I am thinking, those who think girls are fools are fools themselves."
- Wonder Woman, Wonder Woman #1
I have to keep it a stack—and this doesn't come out of unkindness, but out of a sort of self-defense:
I'm suspicious of Tom King's work.
I don't know him personally at all, but there are some publicly known things about him that—as a Black person living in the United States, a descendant of the various African peoples who were conquered and enslaved by Europeans, and dragged, kicking and screaming, into the void their captors called "The New World"—bring me discomfort.
For starters, he was a counterterrorism agent during some of the most egregious moments of the nation's foreign policies. Call me whatever you like, but I cannot separate that agency from its history of bloodshed abroad and at home, including its alleged involvement in the assassination of Ancestor Patrice Lumumba as well as allegedly igniting the crack epidemic that decimated Black communities for generations.
Some may say that the ends justifies the means and that these are the "necessary evils" we must accept or overlook in the interest of keeping (white) America safe. But the cost of this privilege is sky high, and I know how the Universe works: at some point, we're all going to have to pay our portion. Shame on us that we won't recognize it as the kismet it is when the bill comes due. Instead, we'll retreat into "innocence" (that silly and useless construct that Americans take to absurd heights) and claim that we did nothing to deserve such a fate. But one thing is for certain: neither our ignorance nor our lies will protect us. And we won't be able to say that we weren't warned.
While it's preposterous to hold King singularly responsible for the entire history of that organization (though he does attempt to rationalize his tenure with them), because I'm so mistrustful of it and its collaborators, I'm still always thinking that there may be some kind of regressive propaganda at play in King's work; something not just surreptitious, but also sinister that's trying to…I don't know…worm its way into my consciousness, leach away my discernment, and persuade me to regard myself as worthless; or at least get me to sympathize or empathize with tyrants and co-sign on—and maybe even participate in—my own and my own people's destruction.
I first read King's work in 2015, with the Vision limited series. I interpreted it as a necessary and compelling deconstruction of the nuclear family. But, at the same time, I felt it perpetuated a sexist trope endemic at Marvel Comics via ableist/sanist engagement: the old "powerful woman can't handle her power; loses her mind as a result" cliche. Very sus.
Also sus was another limited series he wrote that I found to be exploitative of Black pain and casually anti-Black. To me, it was also rooted in an ableist ideology that I continue to find appalling.
Writer Tirhakah Love discussed the pathologies at work in King's Heroes in Crisis for The Ringer in an article titled, "DC Comics' 'Heroes in Crisis' Explores the Mental Health of Superheroes":
In the first issue, a loaded image of Hot Spot left a bitter taste for some comic fans who found it to be exploitative and gratuitous. The little-known DC hero, a black teenager, is shown lying dead in a hoodie when Superman finds him in a grassy field; a tear trickles down Hot Spot's face as he lies limp, eyes wide open. It adds up to a cruel reminder of Trayvon Martin's murder in 2012 and the continuous threat that black people are not only under but also seem to pose to a largely white world. I tell King that this particular scene could be interpreted as making light of the Trayvon Martin tragedy and the brutal reality of being black in America. "When there's a lot of hurt, it seems to me that the most vulnerable are hurt the most," he said. "The people who don't have the advantages take the blows harder. So it was important to show that aspect of it and not hide from it." Still, the decision to pluck Hot Spot out of hundreds of interesting DC characters to feature in a way that seems geared toward sensationalism downplays the real-life terror black people feel.
And the way the art lingered and then zoomed in on Isaiah Crockett's (Hot Spot's) face felt no different from the viral videos that often turn the death of Black people at the hands of non-Black people into…celebration. There is an old, miserable, and pernicious mindset that poisons the world. It's articulated most mundanely as "the only good nigger is a dead nigger." That sentiment isn't solely embraced by white people. Individuals who ascribe to this anti-idea find these images of Black death entertaining, exhilarating, encouraging, and arousing. The ubiquity of these videos is neither accidental nor incidental. These cyber versions of lynching postcards are part of an insidious plot to desensitize us all to the idea of the destruction of Black people so that the genocide will only be discernable in hindsight since the culprits' deeds will be safely hidden behind their patience. We were warned about this long ago. From James Baldwin's The Fire Next Time:
"White people were, and are, astounded by the Holocaust in Germany. They did not know that they could act that way. But I very much doubt whether Black people were astounded—at least, in the same way. For my part, the fate of the Jews, and the world's indifference to it, frightened me very much. I could not but feel, in those sorrowful years, that this human indifference, concerning which I knew so much already, would be my portion on the day that the United States decided to murder its Negroes systematically instead of little by little and catch-as-catch-can."
Love also interviewed me for the article, asking how I believed ableism functioned, rather blatantly in my opinion, in the story.
"The first thing that jumps out at me immediately is the choice to have Lagoon Boy, who in many ways, stands in as a 'malformed' or 'disfigured' disabled person due to his non-human appearance, elect self-punishment as his method of dealing with trauma," Jones said. "What self-respecting therapist would comply with abuse as treatment…?"
It's safe to say that I have avoided King's work on purpose since then. But here I am facing a new dilemma that isn't as clear cut for me: A man whose work I don't trust will be writing the character who is the entire reason why I collect and read comic books in the first place.
Wonder Woman.
From what I can gather from King's published interviews, Wonder Woman is not a book that he necessarily wanted to work on. The publisher, DC Comics/Warner Brothers—in particular, the amazing, unsung editor Brittany Holzherr—needed a high-profile writer to spearhead the book's relaunch under its latest initiative, "Dawn of DC" (a rather extraordinary refocusing and rejuvenation of its legendary cast of fictional characters). She was able to convince King to give Wonder Woman a shot after the success of his Supergirl: Woman of Tomorrow limited series. I haven't read it, but many people have said that it's a well-written and a compelling take on the woman of steel (who's somehow still called Supergirl). King imagined that he might be able to do for Wonder Woman in the 21st century what the icon George Perez did for her in the 20th (reinvigorate her mythos and reestablish her popularity) and, in the process, give his daughter, and everyone else around the world, a superhero they could invest in and root for.
My concern was how someone like King might be able to deal with a character who is, by her design, meant to be radical (in the good way) and iconoclastic, created to disrupt and dismantle the very dogmas and systems (patriarchy, colonialism, bigotry, war, etc.) that King, himself, at least once pledged allegiance to.
My vision of Wonder Woman is one that isn't very popular. First of all, she's not white. The Amazons wouldn't ascribe to and would exist outside of white supremacist capitalist patriarchal notions of race; and further, Wonder Woman wouldn't even be white-presenting; given her ethnic Mediterranean origins, she would look more Northern African than anything.
She's born of only women. She comes from a culture that has very advanced notions of gender and sexuality, and she wouldn't, therefore, think of queerness or transness as anything unnatural or unusual.
My Wonder Woman is pansexual and polyamorous; someone who gets great joy out of giving and receiving love in all of its permutations. I'm not talking about some kind of ridiculous Cinderella or Snow White bullshit. My Wonder Woman would regard love as the most revolutionary and transformative act; the kind that would strike fear in the 21st-century heart precisely because it's so mind-altering, unashamed, alive, naked, raw, and real.
In present day, she'd be fighting against institutionalized bigotry at its source, using all the tools at her disposal to be a champion for the marginalized and downtrodden in ways that would put her at odds with governments, corporations, despots, dictators, cults, and large swaths of people around the globe. Why? Because they would be afraid that she actually has the power to make the changes she wishes to see in the world, including an equitable distribution of resources, ensuring the collapse of exploitative structures and putting an end to violence.
And that would make the world consider her, for all intents and purposes, a terrorist. Just like they consider(ed) Martin Luther King, Jr., Malcolm X, and Assata Shakur terrorists. That's why I believe the word "terrorist"—in this context—is nothing more than obfuscation. It purports to describe people who make us unsafe, but it's actually a label designed to justify the invasion, theft, violence, parasitism, erasure, death, and destruction inherent in any colonial operation. In effect, terrorist is a word used by white supremacist capitalist patriarchs, and those who adhere to their precepts, to identify the human beings that they believe are eliminable and removable.
My Wonder Woman would be preventing actual terrorists from blowing up abortion clinics or committing mass murders in malls, schools, and places of worship. She would be saving queer and trans people from bashings, stoning, and beheadings. She'd be interfering in domestic violence situations and providing survivors safety and shelter. She'd be bringing genocides to a halt. She'd be freeing enslaved people and ensuring enslavers have the day they deserve. She'd be on the world stage exposing corrupt governments and facilitating the just and fair rule of the people by the people. She'd be helping to develop food and energy alternatives that work in harmony with nature rather than against it. She'd be doing everything she could to ensure everyone has enough of all the things they need not only to survive, but to thrive.
Above all, she'd be protecting children—which the world would hate her for most, since, despite what mouths say, actions demonstrate that children are the most despised beings of all.
In short, my Wonder Woman would be loathed in the modern world. And that's unfortunately a good thing given how tragic the condition of the modern heart is. I mean, this is the world where in the year of our goddess Hera, 2023, in the so-called greatest country in the world, Christians decided that women are unworthy to be religious leaders; Governor Ron DeSatan wants teachers to teach that enslaving Black people was a good thing; and the U.S. Supreme Court ruled that folks have the right to discriminate against LGTBQIA+ people, which cannot be separated from folks subsequently believing they have permission to kill LGBTQIA+ people, and our advocates, for any reason whatsoever.
What Wonder Woman shouldn't ever be, from my perspective, is a warmonger. As artist/writer Phil Jimenez notes in his essay "Wonder Woman" from Keywords for Comic Studies:
If war is the product of misdirected masculine energy, can it also be a feminist ideal? Does feminist ideology justify warfare in upholding war making as a 'noble, heroic calling'? Should a queer, feminist superheroic character like Wonder Woman embody and glorify war, when we know that warfare 'by its nature requires mass subordination to [patriarchal] norms of loyalty and obedience,' mobilization around nativism, and a demand that 'we dismantle our moral universe' to serve war's cause (Boggs and Pollard 2007, 18)?
(As an aside: To me, the Wonder Woman fantasy ironically operates as a reminder that we are not safe and no one is coming to save us. The fact that we believe in a savior myth prevents us from facing what it is that we must actually and continually do, moment to moment: save ourselves. We got to be our own Wonder Women.)
Honey, I gagged when I learned that King actually has a similar view of the character. In his examination, he said that the United States sees Wonder Woman, and all her sister Amazons, as outlaws. Further, speaking to Enter the Popverse host Ashley Victoria Robinson, he said:
"What I found, in going in and reading stuff, and getting a lot from Gail [Simone]'s run, and [Greg] Ruckus run, is, she's rebellious in a way that Superman and Batman aren't. Batman enforces the status quo, he fights crime… Superman, he's a guy from Kansas who believes in the American Way in some sense, he's just like, 'I just want things to be the way they are,' and Wonder Woman's not that. She's the rebel against the system. She's the one who says, 'this is not working, no thank you, I'm not going to do that anymore.' She should never be doing what everyone is telling her to do. She's trying to create a better world."
In another interview, King expressed that Wonder Woman doesn't need a sword (going back to her roots where her weaponry—the bracelets, lasso, and tiara—were designed to be non-lethal methods of engagement and subjugation of her opponents). I agree with that, too. But then he also said he wants to make her sort of like a DC version of Wolverine because Wolverine is "badass." That made me wince.
The push toward making Wonder Woman more and more patriarchal, which is to say, unnecessarily and pointedly violent in her strategies, seems to diminish the character's intelligence and originality for the sake of appealing to an adolescent craving for a direct, aggressive, masculine revenge fantasy. That's not to say that there can't be a direct, aggressive, feminine revenge fantasy as well (can femininity be aggressive? Or is that a trait exclusive to masculinity—irrespective of who's displaying it? I'll have to read and think more on that). Artemis, Big Barda, Black Widow, Crimson Avenger, Hawkgirl, Huntress, Red Sonja, and others fill that slot. I don't, however, think it's a Wonder Woman flex. A Wonder Wolverine might be awesome to most, but it's anathema to me—and surely to William Moulton Marston, who, along with Sarah Elizabeth Holloway Marston and Mary Olive Byrne Richard, created Wonder Woman as an alternative to comic books' "blood-curdling masculinity."
But I get the profit-motivating reasons for that depiction. Corporations can hide the impact of their decisions behind "profitability"; and catering to their alleged largest demographic is, in the most pessimistic sense, just business. But is it smart? To me, it seems a matter of short-term thinking versus long-term thinking. Many people laugh or scoff at diversity initiatives, perceive the idea of including people other than those in power as insulting or even dangerous. But if we're talking business sense here, which is better: broadening your audience or indulging your dwindling one?
Historically, Wonder Woman suffers from writers often writing around her rather than writing from her. I'm not sure if they're intimidated or simply don't know what kind of personality to give her. That often results in her being portrayed as what is termed a "Mary Sue," which is "used to describe a fictional character, usually female, who is seen as too perfect and almost boring for lack of flaws." Or they go the complete opposite direction and make her a tyrant/zealot.
But the thing is: Wonder Woman isn't flawless. If we're going to call a thing a thing, one of her most glaring flaws is how she neglects the people who are closest to her, the people who love her and believe in her most, in her quest to revolutionize the world. And further, she doesn't seem to notice or care. This nonchalant and seemingly willful negligence is the reason her younger play-sister Vanessa Kapatelis became the villain known as the Silver Swan.
King has identified for himself what he believes is Wonder Woman's flaw:
"In looking at Diana, I think one of the problems is sometimes she's put up on too much of a pedestal and treated as perfect, and a perfect person is hard to relate to. None of us are perfect, and it's hard to have empathy with someone like that. I came up under Chris Claremont's X-Men, where every character had a cool flaw. She is someone who's so for peace, but finds herself a warrior. She's constantly failing; every time she punches someone, she's failed at her job. I think that gives her some gravity and something that makes her humanity — that she does not want to be a superhero. She wants us to live in peace and love, but here she is, as a warrior, as a fighter. So her own success is her failure. I think that's fascinating as a character."
I must say, that's an interesting take. In addition to the above, I find that her lack of female friendships is also a huge WTF? She's often written in a way that indicates she prefers to be the singular woman in all-male spaces, happy to be accepted as "one of the fellas." This even extends to the movie franchise. In her media, she's depicted as alien to most women and women are depicted as adversarial toward her; they're either jealous of her or they find her sanctimonious. When there is opportunity for friendship, it's hinted at, but rarely investigated or displayed. In-story, this is inexplicable given her upbringing. But understanding who the gatekeepers of media are and what is going on behind the scenes makes it quite clear.
Since a patriarchal society defines itself vis-à-vis gender binaries, gender segregation, and gender hierarchies, men and boys are taught that liking "girl stuff" is unmanly and undesirable in order to dissuade us from enjoying anything that doesn't center or "taint" our masculinity—especially if it centers femininity or caters to women and girls. In other words, patriarchy indoctrinates men and boys to haphazardly remove the most human parts of ourselves in order to better operate as machinery; and that machinery is designed to function solely in the interest of laboring, bodyguarding, fucking, murdering—and dying. Masculinity under patriarchy is fetching, fetishized, and fatal. And because patriarchy is cultural as well as political, religious as well as commercial, the whole of society—in one way or another, nearly without exception, including those who claim they want an end to patriarchy—enforces this transformation of human beings into thingamabobs.
Former Wonder Woman writer Gail Simone talked about how DC Comics executives consistently pushed for "more guys" to be featured in the book. To enact this edict, they tried many things. They surrounded her with a majority-male cast. They created male Amazons. They gave her a brother. They gave her a son. And eventually, they revamped her origin such that it went from one that didn't involve men to one that centered one of the most misogynistic mythical figures of all: Zeus.
In regard to the new origin, they were sure to drive home the anti-woman/anti-queer points of the project by ensuring the story mentioned how weird it was for no man to be involved in the act of procreation and how the prospect of a woman-only heritage made Diana feel uncomfortable around her own people and exposed her to ridicule from other Amazons. These Amazons were, under writer Brian Azzarello's pen, a tribe of murderous rapists that Diana had to break away from in order to become a hero. In addition, Aphrodite and Athena were removed as Diana's chief patrons and Ares, the god of war, took their place. Sisterhood first mocked, then dissected, before being utterly abolished. As you would suspect, this depiction of Wonder Woman remains the favorite of comic book readers of a certain ilk. Azzarello had said that his take on Wonder Woman was meant to be a horror story. I believe that's true, especially in the ways he might not have intended it to be.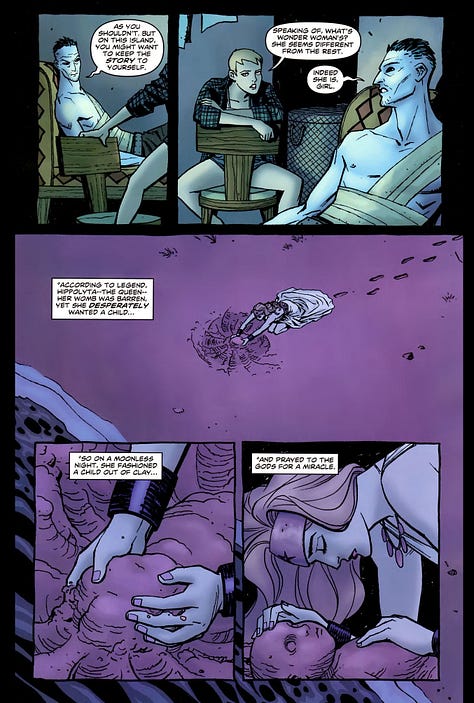 King seems to be following that "more men" edict as well. In Wonder Woman #800, he did something that Greg Rucka was attempting to do before his plans fell through, which was introduce Diana's daughter: Elizabeth "Lizzie" Marston Prince, also known as Trinity. I'm actually quite enamored with the idea of Wonder Woman having a daughter as she has often been left out of the DC far-future. But where this daughter could have been a possibility for extending a progressive feminist legacy, Lizzie is, like her mother, squarely in the company of men.
We are told that she is looked after and provided for by her two "older brothers": Superman's son, Jonathan Kent, and Batman's son, Damian Wayne. It begs the question: Where are her sisters/aunties Donna Troy, Nubia, Artemis, Cassandra Sandsmark, Grace Choi, and Yara Flor? (Some of them are coming, apparently.) Why haven't they had even more of a hand in Lizzie's upbringing than those boys-to-men? Why does the relationship between her and her babysitters take precedence over her relationships with her genuine family?
I guess the answer boils down to: they think the former relationship will sell more books…to dudes.
King also made the decision to make Lizzie pretentious in a way where it's difficult to tell whether she's just joshing or if she really is a bit of a dick (King has subsequently said that her attitude is a cover for her insecurities). I was unfamiliar with the "Girlboss" stereotype as articulated by Sasha Wood in the video above, but how I see it is: Does every woman/girl character have to be "likeable"? Is an arrogant, annoying, overconfident person who can also back up their skills only allowed to be a man or a boy? These characteristics make Damian and Guy Gardner enormously popular, but have made Lizzie heretofore quite unpopular. We accept these traits in men, but not in women. It sort of reminds me of the hate Sha'Carri Richardson receives for her braggadocio whereas Usain Bolt received adoration and adulation for his. I don't get it. Or, actually, maybe I do.
Anyway, I don't have the aversion to Trinity that some online Wonder Woman readers have expressed. Aside from being interested in seeing more of her and her relationship to her mother, I don't know exactly how I feel about her yet. I've only seen her for a couple of pages.
It's psychologically effective, if backward, this idea of swaying readers by pandering to their egos (and this pandering is usually for the benefit of the dominant classes) rather than confronting their ignorance and limitations and encouraging them to broaden their senses. Art and commerce have long been tied together, yes; but I think art is so much more profound and useful when it opens the mind rather than merely gazes at the navel.
But my concerns are sociopolitical ones. DC/WB's are necessarily financial. They have to think about Wonder Woman as a global marketing project. Capitalist "wisdom" says that if it doesn't play in Peoria and China; if it doesn't appeal to mainstream revenge fantasies (or sexual ones), it's not worth exploring. Capitalism places a cap on the creative imagination. Innovation and progress are only as good as what they can earn in profit, while stagnation and conservatism continually prove their bankability. There's no way then, in a patriarchal world, that a Wonder Woman empowered in the ways I imagine could bring in the kind of dough needed (Heh. I said "dough needed") to sustain the brand in the way they want it sustained. In other words, the world ain't checking for a queer, super-powerful BIPOC woman who's dead set on ridding the world of bigotry, tyranny, oppression, hierarchies, and injustice.
That's the world's nightmare, not it's dream.
Writers coming onto this comic book start at a great disadvantage. Wonder Woman stans are notoriously unsatisfiable. Each of us has our own vision of what makes Wonder Woman, Wonder Woman (*raises hand*); and it's rare that those various visions ever align. More often, they are contradictory. Everything from her hairstyle to her boots (and most certainly, her politics) is a fierce point of contention. Every one of us wants the version of Wonder Woman that is closest to our childhood memory or whenever it was that the character imprinted herself onto us. And we are very nasty, unnecessarily so—to creators and to each other—about our allegiance to the rendition we think is the right one. We leave no room for interpretation and become ferocious toward anyone who dares suggest the slightest alterations. It seems, even to me, to stem from precisely the kind of arrested development that writer Alan Moore gets hated on for suggesting. There are legitimate reasons to hate on Moore, but his read on the psychology of many comic book readers isn't one of them.
I'm not one of those people who think only Black people should write about Black people, only women should write about women, only queer people should write about queer people, etc. But I do watch very closely for where certain gazes come into play and damage particular depictions. I know this for sure: If you are writing outside of your identities, make sure you know what you're doing. Do your research. Recognize the humanity of the people you're writing about. Seek out expert opinions and lived experiences. And don't assume shit. Ask yourself: "Am I stumbling into stereotypical, demeaning, dehumanizing territory if I write these characters in the way I'm writing them?" Too many people never ask themselves those types of questions, don't think they have to, or don't even realize that they should. Ego allows so many of us to think that we already know everything and don't need input or feedback; or we believe that if our intentions are pure, we can't make errors—and if we do, the errors are harmless and should be overlooked and forgiven. Certainly, we shouldn't be made to feel bad or be held to account for making them.
King has written Wonder Woman previously. In his Batman story, she was portrayed as the temptress against whom Batman could measure his virtue. Almost two decades earlier, in a nearly identical story, in Action Comics, writer Joe Kelly portrayed her as the temptress against whom Superman could measure his virtue. King mentioned on social media that he didn't even know that the Kelly story existed. If that's the case, it could be indicative of a shared patriarchal, sexist pathology at work, across time even, in the imaginations of some men who write Wonder Woman.
Drawing from Jimenez's essay once more as he quotes from Marc DiPaolo's War, Politics, and Superheroes: Ethics and Propaganda in Comics and Film:
…many of these depictions, including some of her most popular… 'collectively seem to rebuke Wonder Woman' as they try to 'restore her to prominence' in the comic book world, making her 'strong and admirable but also frightening and reckless' and sometimes 'ruthless and sexless,' often suffering 'great public disgrace, penance, and physical beatings' before her peers Superman and Batman give their approval or forgiveness.
King also included her in the aforementioned (and in-my-opinion-atrocious) Heroes in Crisis as well. During a therapy session, Wonder Woman reveals that living on Themyscira was traumatic for her because of the violence she feared she would experience and the violence that she witnessed her mother, Queen Hippolyta, endure. Paradise Island not really paradise for a young princess. Further, she tells the AI therapist that she would rather put the suffering of others above her own. Noble? Perhaps. Or low-key a product of the same rape culture pathology that relies on survivors biting their bottom lip instead of testifying about the abuse and naming the abuser.
He wrote yet another story with Wonder Woman, an homage to a controversial period in her history where her powers were removed by the writers of the time in an attempt to say that women didn't need to be powerful to be wonderous. It backfired when Gloria Steinem and Ms. Magazine questioned stripping a symbol of female empowerment of her power and DC Comics reversed the decision (but not without forcing Wonder Woman to go through trials to regain her Justice League of America membership). Anyway, King wrote a short story in the Wonder Woman 80th Anniversary 100-Page Super Spectacular where a powerless Diana Prince (Wonder Woman) and Clark Kent (Superman) go out on a date. Diana concludes that she and Clark wouldn't work as a couple because she's "free" and he's a "cop." Now, while I detest the idea of a Wonder Woman without her powers, that tiny bit of dialogue rang not only true, but insightful—even if the evidence has rarely been displayed, if at all, in the comic book itself.
I don't have a consistent answer for what to do with the art of an artist found to be "problematic" or even criminal. I don't think it's as clear cut as "separate the art from the artist" or "throw away the art with the artist." I think the answer might rest in some messy, shifting, contextual, uncomfortable, private, individual, and imperfect space that isn't defined by extremes. And I'm rather fine with that.
While I personally don't run from conflict, contradiction, or dissonance, and I'm very okay with sitting with critical discomfort, I do notice that the older I get, the more choosey I become about the media I consume. So much of it, intentionally or unintentionally, feels as though it's trying to either distract me from something vital or brainwash me into being complicit in something insidious.
Whatever his perceived errors, I must still remember that Tom King is a human being, flawed and complicated like all the rest of us, as capable of growth and learning as anyone else. He's not merely the fraction of his personality that I see in digitized images or read in Wikipedia entries and industry interviews. No one is just one thing (though, sometimes, the one thing can be so egregious that it makes it very difficult to perceive anything else). As someone looking critically at his work, I'm not granted permission to engage in dehumanizing actions and words to buttress my own opinion. Anyway, self-righteousness is not a virtue. And I have to remember two things:
1. Dehumanizing others is actually dehumanizing oneself.
2. Everyone has flaws. Everyone makes mistakes. The difference between King and say most everyone else is that our flaws and mistakes remain comfortably private. And lucky for us! Because if all of our personal flaws and mistakes were made public and, thus, subject to global ridicule, I'd wager that not a single one of us would be able to withstand the same kind of judgment and scrutiny that we ordinarily subject others to. So I'm forced to ask myself: How would I want to be treated if my flaws and mistakes became fodder for public discussion: with vitriol or with grace?
Additionally, I'm not a sadist. I have no desire to take my anger, frustrations, and traumas out on anyone else, and I get no happiness or thrill from watching others suffer.
In the end, though, what it boils down to for me is: What will his work on Wonder Woman show? A man at the very least apprehensive about his past allegiances? Someone who knows better trying to do better? Or a person who continues— uninterrogated, self-unaware—the peculiar patterns of objectification inherent in the white supremacist capitalist patriarchal imagination?
With all of this in mind, I read Wonder Woman #1 (Legacy: #801).
And…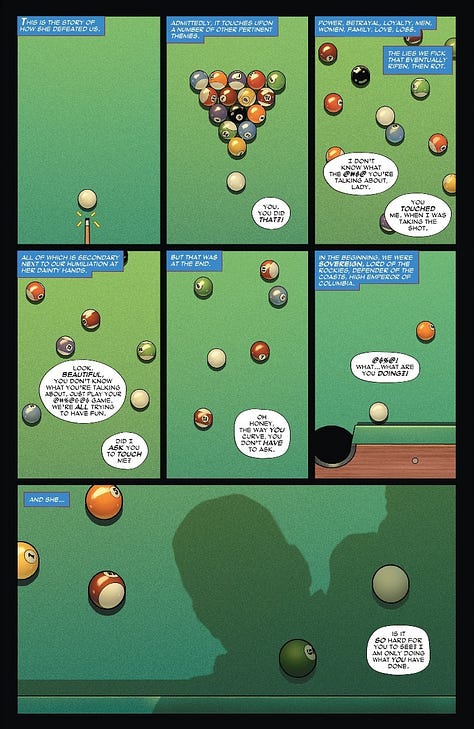 …y'all: It was pretty fucking awesome.
I have to admit that, as a critic, I'm at a bit of a disadvantage because this is sequential storytelling. I'm not yet aware of what plot twists, misdirection, etc., are occurring. I'm judging a story that isn't yet complete and, therefore, I might be misreading some things because I don't yet have their proper context. Still, Wonder Woman #1 reads as a kind of death-bed confession. As to whose confession—the narrator's (a new Wonder Woman archnemesis named The Sovereign) or King's, I don't know. For now, I'll say that I don't find it coincidental that "Sovereign" and "King" are synonyms.
The tone of story is unlike any other previously told in Wonder Woman. It's somber and serious; to me, it feels even more serious than writer Greg Rucka's runs. There's an immediate sense of foreboding and danger, and the stakes is high!—a rarity for Wonder Woman media. It legitimately feels like King is asking: "What if Wonder Woman was real? How would this country respond to her?" And the answers are chilling.
In the most obvious sense, the story is an allegory for how the United States treats most BIPOC asylum seekers, immigrants, and outsiders. It begins with the scene above. An unknown Amazon kills 19 men in a pool hall after one of them sexually accosts her. This opening is, I think, a feint. It's so on-the-nose and cartoonish about misogyny and sexism that it has to be part of The Sovereign's plan to discredit Wonder Woman and the Amazons.
That it takes place at "Kanigher's Cues"—a not-so-subtle reference to Robert Kanigher, a writer who took over Wonder Woman's book back in the 1950s and, for all intents and purposes, in response to a conservative push to eliminate Wonder Woman, domesticated her ala Leave It to Beaver—seems purposely ironic. This unknown Amazon must be some sort of plant who intentionally responded in the most violent way possible in order to ignite American fears about powerful women and turn public sentiment against Themyscira, Bana-Mighdall, the Esquecida, and Wonder Woman herself.
Regarding The Sovereign: He could have easily been called The Grand Wizard, The Patriarch, The President, The Police, or, quite frankly, The Pope. There's not as much space between those positions as you might imagine. Check the historical record. And just look at his drag! That outfit would be unremarkable on a king, a captain of bigotry, a head of state, a military leader, or a head of a religion. Wolves are always trying to distract us with the ostentatiousness of the sheepskin they've covered themselves in. And it's also very interesting that The Sovereign's eagle chest-insignia is reminiscent of Wonder Woman's original one.
The Sovereign is, in my estimation, the embodiment of online conspiracy theories about the puppet masters pulling the strings of U.S. politicians. He's the Immaculate Illuminati; Director of the Deep State; Owner of the One Percent; the Devil. And I won't argue that there aren't nefarious forces behind the scenes whose vast resources and wealth grant them incredible influence over American laws, policies, customs, and practices; any fool can tell what's what. But I also don't wish to absolve everyone else who's complicit of their participation in the catastrophes.
It's convenient to cast all of one's own sins onto some scapegoat; it's been the human way for as long as there have been humans. But the truth of the matter is that it takes a lot more than a few filthy rich people to move a society from loving to merciless: It takes a village. I come back to Baldwin, this time, from The Devil Finds Work:
For, I have seen the devil, by day and by night, and have seen him in you and in me: in the eyes of the cop and the sheriff and the deputy, the landlord, the housewife, the football player: in the eyes of some junkies, the eyes of some preachers, the eyes of some governors, presidents, wardens, in the eyes of some orphans, and in the eyes of my father, and in my mirror. It is that moment when no other human being is real for you, nor are you real for yourself. This devil has no need of any dogma — though he can use them all — nor does he need any historical justification, history being so largely his invention. He does not levitate beds, or fool around with little girls: we do.
Still, to have this idea—of some manifested evil presence singularly responsible for nourishing us on American lies and creating the very American myths that lead Americans into the most conscience-less and narcissistic of places—materialized in a comic book is a very bold, compelling, and risky move in a country as notoriously conservative as the United States. And the risk is what makes it compelling. Oh, there's going to be backlash. Trump supporters are already quite upset that the book has an anti-Trump posture. That's the best thing about the book to be honest. King once expressed that he felt that Trump behaved as "an asset being used by a foreign power"; and shit, given King's background, wouldn't he know?
While giving us a scapegoat to absolve us of our sins doesn't make for good analysis, it does make for good story. And to have Wonder Woman, of all characters, in direct confrontation with this specific kind of politic is honestly the book I've always wanted to read.
And here's where it gets more revealing than it intended: How does The Sovereign do this? How do he and his ancestors convince a nation, generation after generation, of its "inherent goodness" in the face of all of the evil it has committed? Why, with a black lasso, no doubt: "The Lasso of Lies."
According to the story, The Lasso of Lies was stolen from a community of Indigenous women, in what's now called Virginia, who were killed by the pirates and robber barons The Sovereign is descended from. What are its powers? It can force people to believe lies, obviously. But according to Wonder Woman #800, it's also deadly. So, it's sort of like the opposite of the Lasso of Truth. (I'm hearing that this lasso also appeared in Batman #137, but I haven't verified that).
I must say: I will never understand the impulse to associate blackness with evil. Actually, that's not true: I do understand it. What I won't do is accept it.
I enjoyed most of the writing in Wonder Woman #1: The narration of The Sovereign, given in the "Royal We," as he simultaneously lavishes praise/hates on Wonder Woman on some Antonio-Saliere-in-Amadeus-type shit; the allusions to the inhumane U.S. policy of separating asylum seekers from their children; the depiction of how American media has abandoned journalism and, now owned by corporate giants, plays into the dissemination of falsehoods because it's profitable. It was all very good.
There was one scene, in particular, that stuck out to me. Wonder Woman is ambushed, attacked by the soldiers of the Amazon Extradition Entity, or AXE. She defeats them. But really, it's nothing for someone of Wonder Woman's level of power—she's just about as strong as Superman and has no peer when it comes to martial skill—to take out a team of human assassins. Many writers tend to forget this and skimp on Wonder Woman's demonstrated feats of speed, or more specifically, physical strength, almost as though they believe that a woman lifting a mountain or something grand like that is...unladylike.
But as I was saying, she defeats them and then has a conversation with their leader, an arrogant and sociopathic "patriot" named Sargent Steel. Like a typical police officer, he attempts to rewrite, in real time, what actually went down; as though saying it out loud for any recording devices will absolve him of the crime he intended to commit when he tried to assassinate Wonder Woman without provocation. She says to him:
"You shot at me before I moved. Why are you lying?"
This is a question every Black person in the world would like the answer to. Because this is exactly what the authorities do to Black people. They shout: "Put your hands in the air!" when our hands are already in the air; "Stop resisting!" when we are already cuffed and compliant. These phrases are preambles to the murders they are deliberately and illegally about to commit, and claim were justified. While it was strange to see those words coming from the mouth of an ostensibly white woman, it made sense when I realized that for Steel, Wonder Woman isn't white; she's Amazon.
There's another scene in the story that I don't think was necessary to show. An Amazon named Nyx is murdered by Steel and his army using Amazon-steel-piercing bullets. The action was first shown in silhouette. Then, in the very next panel, we see her bloody, riddled body lying facedown on the ground. Because we've already seen what happens to her in the shadows, the scene on the ground becomes redundant, excessive, exploitative, gratuitous, and shameless (and notice that the soldier who is killed right before she's killed has the benefit of his death happening slightly off-panel, not in full view). At least Nyx wasn't (overtly) sexualized like Poison Ivy's death was on the cover of that one-more-time-for-the-people-in-the-back: dreadful Heroes in Crisis. Still, seeing it was jarring. And I'm glad I found it jarring given how desensitized to violence the world is becoming.
Also, this idea that the Amazons aren't technologically advanced needs to be put to permanent rest. Seriously.
And as for Wonder Woman's voice: We don't hear much of it in this issue, but what we do hear is surprisingly on point. She's very smart. She's confident. She has a specific point of view. She's not for the games. And if you call her the c-word? Well, if you fuck around, you will find out.
Something else this book does that I can't recall ever happening in a Wonder Woman book: It allows her to be the best at what she does. It doesn't diminish her in favor of Superman and Batman. It, in fact, lets us know, in no uncertain terms, that Superman, Batman, and all the rest of them are great, but they are not as great as Wonder Woman. Expect this to piss certain folks off.
Much to my dismay, however, she had no on-screen interactions with any women at all in this issue. When I realized this, how the story was already failing the Bechdel test, after the comic book itself, under many hands, has failed that same test for years, I began to question the entire endeavor: its gaze, its point of view, its agenda, its impact. I started to wonder: Is the political opposition Wonder Woman is facing in this story just the latest in the tradition of the penance DiPaolo suggested she's forced to endure? When all is said and done, who will need the approval and forgiveness he spoke of:
Wonder Woman?
Tom King?
Us?
…
Can we get into the art now?
Daniel Sampere is, hands down, the megastar of this show.
A relatively new artist, Sampere (pronounced Som-pair-ray; not Som-poor, not Sam-pair) is already a master of his craft. Clearly influenced by legends like the late, great George Pérez and the inheritor of Pérez's throne, Phil Jimenez, Sampere pays exceptional attention to detail. His work is so dynamic. There's a certain tenderness to his drawings, something lively, fluid, dimensional, and dancing. There's bigness and smallness. He invests a flowing beauty into each and every one of these pages. It's an unbelievable sight to see.
His action sequences are truly dashing. His fight choreography is terribly graceful—down to the movement of the magic lasso. Beyond simply striking, Sampere's work is considered. My homie Stanley noted a strong Wuxia vibe to the battles; another friend picked up on the overall cinematic quality of Sampere's art.
Check out the excerpt below. There's so much going on in those panels, on so many levels. For example, follow the trajectory of Wonder Woman's thrown tiara. As she's taking on these AXE soldiers in hand-to-hand combat, her tiara is boomeranging in the background, taking out four soldiers from just one toss. Then, it returns to her grip as she uses it to K-O another soldier pointing a rifle at her. Outstanding. Instead of sound effects, Sampere uses stars to symbolize contact and impact specific to Wonder Woman, giving her and the book their own unique aesthetics. Incredible. I'm so impressed by his style that I actually bought some of his original artwork while it's still relatively affordable.
Whoever is doing the next Wonder Woman film adaptation better have fight choreography somewhere near the top of their list. If it ain't Crouching Tiger, Hidden Dragon-level astounding, then it's really not being done properly.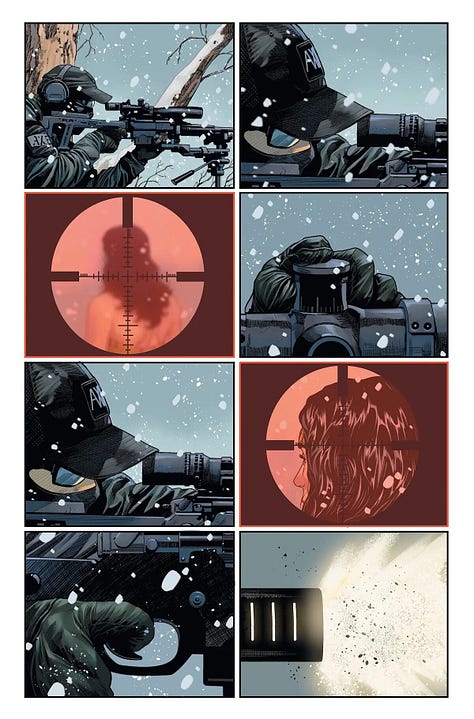 An undisputed champion of this book is Tomeu Morey, who does more than handle the colors of this story. It's more like he pulls from the richness of the real world and paints it on page after page such that each layer is a luscious reminder of the depth and quality of living. His landscapes are inviting. His sky is freeing. His people are lovely, and also terrifying. And the glowing gold of Wonder Woman's lasso is so absolutely shimmering that you can hear it hum. I wish they had chosen to print this book on that glossy, prestige paper they sometimes use. That would have taken the book to a whole 'nother level.
I can't help but wonder how King got this book past the right-wing corporate gatekeepers. I can already hear the cries of: "Wonder Woman has been co-opted by wokeness!"—and also: "This comic book review is woke!"—from the increasingly anti-progressive readership. And I know it's very popular on the Internet to flatten wokeness into an insubstantial and tyrannical commitment to political correctness. And maybe that is how some people practice it, as a means to discredit it, as a method to boost their own egos, and as a way avoid their own standards of accountability.
However, for me, being woke is a tradition in which thinking critically about the world at large—the systems I exist in, the identities I'm categorized into, the information I receive, the human interactions I participate in and observe, and the ways in which I harm and am harmed—is paramount to safety, survival, self-betterment, and harmonious living.
I supplement that with compassion because that is, to me, truly the defining feature of being alive. There's no way I will ever allow anyone to make me think of being woke as a bad thing. I assess those individuals as terrified of the prospect of being held responsible for the bad things they do; as wanting to be free to intentionally commit malicious acts without repercussion. People who see wokeness as a danger are, in my estimation, people who know that they will crumble (or pay the penalty, one) if the lies they've been told all of their lives—the ones that have given them self-definition and self-esteem; the ones that they've used to justify all sorts of treachery—are revealed as such.
So yes: my third eye is still wide open. And I will report back if and when I feel there's something unseemly going on in future issues of this comic book. But for now:
Despite what I see as its flaws, I believe this was a valiant effort. Alongside the things that I felt needed a more thoughtful pass, there was much to like. So: On a Wonder Woman scale from 1 (Brian Azzarello's anti-feminist/patriarchal Wonder Woman run) to 10 (Kelly Sue DeConnick's superb Wonder Woman Historia: The Amazons), I'd rate Wonder Woman #1 by Tom King, Daniel Sampere, and Tomeu Morey an 8.
Wonder Woman #1 is available online or at your favorite local comic shop.
Bonus
I'm a tad early—making up for being late with my summer solstice mixtape. But here is the autumn solstice mixtape that I call Leaves Are Falling/Velvet Splash, an homage to the song "Screams of Passion" performed by The Family, written and produced by Prince.
Enjoy!
Alrighty, fam. Thank you so very much for sticking around. I truly appreciate you being here. As always, please practice kindness. Sure, cruelty comes easy, but it also never fails to come home.
Be safe out there.
Blessings upon blessings,
Robert